Star Ocean: Space Odyssey
- Buy
Japanese
Books
Soundtracks
Arrange Album
Original Soundtrack
Motoi Sakuraba 2003
Motoi Sakuraba 2006
Arrange The Best Plus
Best of Valkyrie Profile
- Official Website
- Discussion Forum
- Twilight of the Gods
- Buy
Japanese
Soundtracks
Director's Cut
Arrange Album
Voice Mix Album
Best of Star Ocean
Original Soundtrack
Motoi Sakuraba 2003
Arrange The Best Plus
- Official Website
- Discussion Forum
Valkyrie Profile 2: Silmeria
- Buy
Japanese
Soundtracks
Arrange Album
Voice Mix Album
Original Soundtrack
Motoi Sakuraba 2006
- Official Website
- Discussion Forum
Valkyrie Profile: Covenant
Star Ocean: Faithlessness
"Twilight of the Gods"
The Story of Valkyrie Profile
| Chapter 1 | Chapter 2 | Chapter 3 | Chapter 4 | Chapter 5 | Chapter 6 | Chapter 7 |
Valkyrie Profile begins with a short prologue telling the story of Platina. She being the human form of Lenneth Valkryie. Unfortunately for Platina, she lives in a small village and has a cruel mother and father. Her only real friend is Lucian, a boy that lives in the village aswell. The past few days men in black have been coming to the village and speaking with their parents. Lucian knows that they are buying the children of the village to be sold into slavery, as her sister has disappeared. One night Lucian comes to Plantina's window to inform her that her parents have sold her.
Soon after Plantia's mother comes into the room. Lucian tells her to come quickly and they run off into the woods. After running for awhile, Plantia asks Lucian if this isn't just a huge misunderstanding about being sold? He explains to her that his younger sister has disappeared along with other children in the village, so it must be true. Lucian tells Plantia that he just doesn't want to lose her. With that Plantia suggests that they run away and that she will go anywhere with him.
Lucian and Plantia venture deeper into the woods, eventually, coming to a meadow. Plantia is taken with the beautiful sight and thinks it could be heaven, but Lucian tells her not say such things and she apologizes. Lucian starts to examine the flowers as Plantia walks on ahead; he soon discovers that these are Weeping Lilies! He yells to her that they must leave, but it is too late as the follower's pollen has already taken its effect. Plantia falls to the ground as Lucian runs to her and puts her into his arms. She asks him that if she was to fall asleep here could she just slip way? Telling him that she can't take it anymore, no matter how hard she has tried her mother and father have never treated here with kindness. She asks that if he cares for her so much does he think they might be reborn... reborn together? Platina tells him that she is so glad to have known him, but she has too many awful memories, she just wants to forget... forget... it... all..., she then dies in Lucian's arms. Lucian yells for her to wake up, that he won't have this! Saying would she forget him?! But it is too late as the screen fades to black.
Ending A, B and C all start off with Lenneth being summoned to Asgard; there she is to meet with Odin and Freya in the golden halls of Valhalla. She begins her journey in the great fields of Asgard. Lenneth comments on how Nostalgic the whole scene is.
On her way to meet with Freya and Odin she runs into Frei, Freya's younger sister. Frei is overjoyed to see Lenneth again and greets her. But oddly; Lenneth doesn't seem to remember her or how long she has been gone, nevertheless, Lenneth greets her back. Frei then remembers that she must go meet with Odin.
Lenneth enters Valhalla's main hall and stands before Lord Odin and Freya. She kneels but is quickly told to stand as she is not some dweller in Midgard.
Freya teleports down and greets her as Frei did, then turns to Odin as he begins to speak. Odin states that he would not have summoned Lenneth, the greatest of the three goddess that govern destiny, without good cause. He has been informed by the head of Mimir, that Ragnarok, the end of the world draws near. He also informs her that there has been signs of unrest among the Vanir of late, and that we the Aesir will not be able to avoid war with them. Odin says that she shall now journey to Midgard, the world below, and search for suitable human souls, for the coming war. Lenneth agrees to the task saying "It is my honor, Lord... to serve you. Odin then says that he will be expecting great things from her, then turns it over to Freya. Freya uses her power to bestow upon Lenneth divine armor. Telling Lenneth that she will join her on her journey down, as she has but recently awakened and it would be unkind of her to send her alone. Lenneth and Freya then teleport away.
Down on Midgard Lenneth and Freya appear on a mountain side. Lenneth asks "This is... the human world?" Freya responds that it is indeed, the lower world of Midgard, where souls wonder about... locked in cages of flesh. She asks Lenneth if it reminders her of anything, knowing full well she has sealed Lenneth's memories. Lenneth responds not particularly, as she has never seen this world before. Freya pauses for a moment then says I see... then let us go. Lenneth asks where? Freya tells her that it is time she learn who she is and what her role will be. They then teleport way...
and appear above the world of Midgard. Freya asks if Lenneth hears something; she responds "What do you mean?" Freya tells her to close her eyes and open her heart, concentrate and listen and that she will understand. Lenneth begins to concentrate; she begins to hear the sorrow, anger and hopes of humans near death. Freya tells her that this is her power and that she must use it to search among the souls of the departed to become heroes for the coming war. Freya then tells Lenneth that if they move closer she will be able to synchronize her soul with theirs. They once again teleport away.
At this point the game pretty much begins; switching from the perspective of gods, to that or mortals. Valkyrie Profile has very detailed stories for each new Einherjar that joins Lenneth's party. They are far to detailed for me too describe each one individually. But, to put it simply, there are two modes of gameplay. In story mode; you encounter new Einherjar throughout the world. Then there is the other mode; where you enter dungeons and traverse into them and defeat the greater evil within, meaning the boss of that dungeon. Freya joins you while you're exploring the first dungeon, that being the Artolian Mountain Ruins. Here she basically shows you the ropes, how to control Valkyrie's movements and use her abilities, open treasure chests, etc. Even at this early stage of the game Freya's power is noticeable as she does far more damage then Lenneth, Arngrim or Jelanda. When Lenneth reaches the boss she Freya tells her that she must fight this battle without her assistance, but gives Lenneth a powerful sword. After Lenneth wins she makes her way outside. At this point Freya has left Lenneth to her task and the game as has begun.
Chapters one through four consist of acquiring new Einherjar and defeating the dungeons of Midgard. And as each chapter ends; Freya gives you a briefing on how the war is going, also informing you on what kind of warriors they need. If you the player, have been following Freya's orders, then Lenneth's seal rating will be rather high. But if you haven't, during chapter three or four, Lenneth's seal value will around 10. At this time Freya will confront Lenneth. She states "What is the meaning of this? Lenneth. If you intend to defy the wishes of Odin, then are you prepared for his wrath? I will not say it again. Your duty is to find souls suitable to fight in Valhalla as warriors. Do not waste the time remaining to you!" Freya then teleports away. Freya appears again if you choose to disobey this final warning. Lenneth begins that conversation with "My Lady, Freya..." She tells Lenneth that it is time for her to understand.
They then both appear in a wooded area. Freya tells Lenneth that it is unfortunate, but something has gone wrong inside of her and there is no time to repair a faulty machine. Freya says that the least she can do is put Lenneth into divine sleep by her own hand, then proceeds to annihilate Lenneth and her party in battle.
Freya then reports to Odin to inform him that the content ego, Lenneth, has been sealed off and the secondary ego Hrist, is ready for awaking. Odin pauses for a moment, but then concludes that there was no other way. Freya then tells Odin that she is worried about Hrist's past history with Brahms. Odin knows that this because of Silmeria, but replies that it could indeed prove troublesome, but now is not the time to worry about it. Freya agrees and begins the awaking ceremony.
During chapter five Lucian is killed and is then recruited by Lenneth.
He immediately notices a resemblance in her with his childhood love, Platina. But he doesn't take it seriously in the beginning. At some point during Chapter six, Lucian must be sent up to Valhalla in order to achieve the A ending. But before this, we find that Lucian is rather upset. Lenneth comes to ask him what is wrong. He tells her that he used to know a young girl and that she died while he was trying to save her, and that she reminds him of her. Lucian takes Lenneth to the village where he and Platina used to live. There, he shows her Platina's house.
Taking Lenneth by the hand, Lucian runs, runs with her into the woods just as he did many years ago. He keeps running until they come to that same meadow. Lucian then tells Lenneth that this is where Platina died while he was trying to save her. He then asks Lenneth to take off her helmet, after doing so, Lucian replies that she looks exactly like Platina. The whole scene is rather emotional; as the wind blows and pollen from the weeping lilies becomes airborne. Lenneth then approaches Lucian and kisses him; the screen then slowly fades to black.
Lenneth appears on the world map and Lucian has been sent up to Valhalla. Later at Valhalla, during chapter seven, Loki meets up with Lucian and tricks him into helping steal the Dragon Orb that Odin took from Midgard. Loki takes Lucian to where the Dragon Orb is being held, and while he steals the Dragon orb allows Lucian to use the Water Mirror to speak to Lenneth. Loki, now having what he has been after for sometime transforms... and with his new power he kills Lucian. Odin and Freya quickly find out that Dragon Orb has been stolen and that Lucian has been killed. They go to question Loki; but he has since reverted to his weaker state and denies the allegations.
At this point Valkyrie Profile consist of normal gameplay. You will have a chance to recruit a few more Einherjar and enter a few more dungeons. If you didn't send up Lucian during chapter six, you will have ending B, which is the battle with Surt, King of the Vanir. So at the end of chapter eight, Lenneth will arrive to the battle field with her Einherjar and with the rest of Odin's forces. The other gods tell Lenneth not to worry, as they will clear the way and cover her flank so she can enter Surt's castle.
Once inside Lenneth must traverse the castle and make her way to Surt's throne room. Along the way Lenneth has a chance to fight the dragon, Bloodbane. Who legends say, swallowed the final of the four treasures... the Demon's Sword Levatian. On a side note: This sword is also from Star Ocean: The Second Story, and it was the strongest sword in that game. It's a tough battle, but if you can win, the Levatian Sword will be in a treasure chest where Bloodbane once was. Now all that is left is the battle with Surt.
Lenneth enters Surt's throne room and stands before him. She tells Surt, that the time has come for him to be sent back to the nothingness of the abyss.
She will not wait for Odin's divine attention, the power to enforce his will is hers. Commanding that; as fit for a king... he draw his sword draw and die!!". Surt replies how she does prattle on and says that she is ignorant of the truth. Surt stands up and the battle begins. At the start of the battle Surt tells Lenneth that she has been deceived by Odin's vile treachery... Asking her can she not see that he now walks the path of justice?! Calling Lord Odin nothing more then a master of trickery and deceit.
After the battle, and before his death, Surt yells out: "It can not be, evil... You mean to say evil prospers?! I do not accept this... I do not accept this!!" as the screen fades to black. Freya appears and congratulates Lenneth. Telling her that thanks to her efforts they have defeated the Viner, and that the Einherjar she trained fought bravely indeed. She informs Lenneth that Odin shall now rule evermore in the golden halls of Asgard. She continues on saying that Lenneth's work in Midgard is finished, and that she must be weary. For now she shall return to Valhalla, to sleep the divine sleep, as her wings need rest and her wounds need healing... Freya finishes with wishing Lenneth a good night as the screen fades to black.
If you did send up Lucian during chapter six; you will have the A ending. During chapter eight, Lenneth must go to the Weeping Lily Meadow in order to trigger the event. Once she gets there, she starts walking up to Platina's gravestone, as she is walking she thinks about what Lucian told her, that she would know where the other earring was. When she reaches the gravestone she kneels, and begins to search the ground, and comes upon the earring. She asks herself how she knew it was here...? But comments that its sparkle will no doubt soon be dimmed, ere is next blooded... Lenneth then brings the earring to her chest and it sparkles once... She then thinks of Lucian.
All of a sudden she starts to put it all together, she remembers back to when she was a human child, when Lucian tried to save her, and when they ran from the village, and finally how she died... Then her memory shifts to when she meet Lucian as an adult, when he took her back to the village, where he again ran with her through the woods, into the meadow. She remembers their kiss, and when Lucian is killed after Loki steals the Dragon Orb. The screen then slowly fades to white.
At Valhalla, Freya yells to Odin "The Seal!". Odin is shocked asking Freya if Lenneth has regained her memories?! She replies Yes... But that her security is operating normally. Odin laughs saying: "Just as planed eh?" The screen fades to black as Freya says the seal will not break! Back on Midgard, at the meadow, Lenneth feels a sharp pain, she then sees Hrist appear and start to walk toward her... In flash of light Lenneth soul has been replaced with Hrist's!
Arngrim and Mystina arrive to find that Valkyrie is now in black armor. Arngrim asks what is happing? Mystina yells for him to stay back as something is not right. Arngrim asks Mystina who that is but receives no reply. Instead, Hrist replies saying that she is the Valkyrie and that they both will now obey her. Arngrim refuses, as he doesn't even know who she is. Hrist laughs, telling Arngrim that she is disappointed, asking how he could have forgotten her after all they have been through? Mainly their fight against the Vampire Lord, Brahms. Hrist says that her long battle with Brahms is not yet over... as he holds captive the soul of her youngest sister, Silmeria.
Hrist continues, saying that the battle that now rages between the Aesir and Vinir, was once a battle they fought against the undead.
Hrist starts walking to Arngrim, but he yells for her to stay away asking what she did to the real Valkyrie?! Hrist angrily replies: "Did you not hear me? Do not make me tell you a third time! Pledge your obedience to me now!" Hrist tells them that she is the eldest sister, Hrist; and that her sister Lenneth, who they know so well will, not be returning to this world. She goes on to say that she is one of the three Goddess of Destiny, her and her sisters control the transmigration of souls. It was her sister Lenneth who Odin chose to handle this realm... but now he has judged her unfit for the task.
Arngrim and Mystina are shocked can't believe this is true. Hrist smiles, asking "And, what do you plan to do?". They reply; that they refuse to obey her! Hrist, who is now rather upset. Says I see... She then notices the earring that Lenneth found before; saying that she has no need for foolish trinkets, then throws it at Arngrim and Mystina. Hrist then fires a burst of energy at them. But, before the blast hits, Lenneth yells out with the last of her strength NO!! and puts herself in front of the blast. The blast destroys what is left of Lenneth's soul making it nothing more then a few wisps... Hrist is rather surprised; saying Lenneth, so you are not yet fully asleep? She supposes that she will let her live, as there is really nowhere for her to go if she dies anyway. Hrist then teleports away.
Arngrim asks what are these lights? Mystina replies; that they are fragments of Lenneth's soul, but are starting to dissipate.
Arngrim yells can't we do something?! Mystina has no answer... Then, out of nowhere, a mysterious voice tells Mystina to freeze the atmosphere around the wisps. She recognizes the voice as Lezard Valeth's, and does as she is told. The voice then replies: "Impressive" Lezard teleports to them, he offers a truce as they must save Lenneth. At first, Arngrim and Mystina hesitate, but then agree. That is, along as he indeed does know a way to save her. Lezard replies; of course he does, but they should return to Mystina's lab to discuss it more. Before they leave Mystina comments that Lezard looks weird... He tells her that this is his spirit as his physical body was getting in the way, so he rid himself of it. Once they arrive at the lab, Lezard points out the remaining homunculus, telling them that Lenneth's soul has suffered too much degradation and it is the only way. Mystina says all this seems a little bit too convenient. Asking Lezard, if he isn't doing this to serve his own goals? Because, for awhile, Lezard's goal was to join a god and a human into a homunculus. He replies: "You don't believe me? Come come now, do we really have time for quarrels amongst friends?" They both reply: "WHO'S YOUR FRIEND?!"
Lezard tells them that Lenneth's soul is highly degraded; he simply can't guarantee what will happen to her memories or her personality... Lezard adds that the soul is so incomplete in fact; that they must act immediately. Mystina and Arngrim agree, Lezard beings to cast the lost magic of Soul Transfusion. The spell is a success and the homunculus and Lenneth's soul are joined, but it is nothing more then an emergency stop-gap as they must retrieve Lenneth's true vessel. The party head for Brahms's castle, as Hrist has gone to challenge him. Just as Freya feared in ending C.
After arriving in Brahms's throne room, they see that Hrist has already issued her challenged. But before they have a chance to battle, Lezard, Mystina and Arngrim run up from behind and get their attention. Brahms states that the confrontation between him and Hrist is fated, but asks what the rest of them are doing there?
Arngrim tells Brahms that Valkyrie was burdened with a false destiny by the gods. Mystina adds they will not allow Valkyrie's existence to be negated! Brahms says that he understands, the soul within the vessel is not the true Valkyrie. Hrist beings to laugh, saying they are all one... there really is no answer for which is the "true" Valkyrie. Mystina replies; they don't care which is the "true" one, they just want Lenneth back. Hrist asks if she misses her? Adding her view differs on the matter. If Lenneth did in fact stand in support of you humans, her existence would surely be annihilated by Lord Odin. Brahms then materializes next to Lezard, Arngrim and Mystina. He tells Hrist that Lenneth's vessel can not convey her true powers, and that he can see that her true power has not fully awakened. Adding. it might have been too early for her to come visit him. And that there is no question that their battle demands a conclusion, but she has so little respect that she would challenge him in such an incomplete state?
Hrist responds that this is nonsense! Asking; what place Brahms has to say such things when he hides behind Silmeria!! Brahms then tells Arngrim that fate is a curious thing is it not? That they would be joining forces against Hrist... He adds let us put her back to sleep for a little bit longer, as she comes uninvited by them all. After a short battle, Hrist is nothing more then a few wisps. Mystina freezes the air around them, and then Lezard, Mystina and Arngrim begin to leave. But before they can Brahms asks Arngrim if he doesn't have any questions for him? Arngrim replies; that no, as it has nothing to do with who he is now. Brahms laughs and agrees, adding that perhaps they will meet again as they have in the past, then Brahms slowly fades away.
Back at Mystina's, Lezard begins casting the spell to rejoin Lenneth's soul with her vessel. They succeed, and Lenneth is back, but something seems odd as she doesn't stand or respond. Lenneth is thinking about Lucian almost immediately after she is reformed. She thinks back to when she died, was she was human, and when she was with Lucian as an adult. She then starts to question who she is, asking herself, is she nothing more then a death goddess... Was she picking souls as though she was picking flowers?
Lenneth starts to dream; Platina appears before her in the Weeping Lily Meadow. She tells Lenneth that when she returns to reality she must remember her former self, who she was, and what she used to want. Lenneth returns to reality, but quickly fades away, appearing at the Weeping Lily Meadow. Lezard, Arngrim and Mystina find her at the Weeping Lily Meadow frantically searching the ground for the earring that Lucian gave her. They yell for her to calm down but she tells them; "NO!". Because the earring is all that she has left of him. Lenneth begins to cry... wondering why Lucian had to die like that? Asking herself, what can she do? She can not make amends... She can not return him to the living!! She cries out, I hate it! I hate it... as the screen fades to black.
Loki has journeyed to meet with Surt, King of the Vanir. He has is hopes of making a deal for them to join forces. Loki informs Surt that if he thinks he can win this war with sheer numbers alone, then he is but a fool and not a king. As Odin already has 3 of the 4 divine treasures in his hands. Loki adds that he believes that next era will not be governed by power alone, but by justice, and yet, for the meeting of justice power is required. Surt is shocked as Loki displays the Dragon Orb to him. He tells Surt that he will not hand it over with some security, requesting he be allowed two compatriots. Surt agrees, as the Wolf Fenrir and the Dragon Bloodbane appear behind Loki. Loki then asks Surt, how he can refuse? As he offers Surt two of the divine treasures and two beasts to match. Surt replies that he is most generous, but that he has not falling so low as to raise arms with filthy beasts and demons. Loki responds; are saying you don't need my help? Surt answers that it is precisely what he is saying.
Loki angrily asks him, are you sure you are in a position to make such hasty choices? Then reveals his true form, telling Surt, that he shall deliver both him and Odin to the plane of non-existence! At this point the screen fades to white...
At the ruins of Valhalla, Loki confronts Odin. Odin tells him that he dares to stand before him!!! Loki replies, that just once he wanted to see the spear Gungnir let loose its true power. Freya then appears and tells Loki that he has gone too far! Asking, does he truly believe he will forgiven? Loki responds perhaps not. Freya prepares to attack Loki, but Odin calls her off telling her to move away as Loki has the orb. The screen's colors then invert as Odin and Loki enter battle. Off in the distance, Frei and Lenneth see the flash of light, but do no realize what it means. Lenneth says Valhalla is... Feri says to her that Loki has stolen the Orb. Lenneth asks the Orb? Frei tells her; Yes, the Dragon Orb that Odin took from Midgard to prepare for the coming Ragnarok! And that Loki has betrayed them. Frei goes on to tell Lenneth that she needs to go to Odin's side, as the war goes not well. Adding that Freya is already there. She continues on saying that she thinks Odin was trying to kill two birds with one stone. The Orb has great powers and without it Midgard would fall in chaos, thus, making her job easier. Lenneth yells for her to stop it! She asks why? Nut Lenneth tells her it's nothing and to forget it. Lenneth then goes to find Odin. But she finds him laying on the ground and sees that Freya is crying over him. She asks Freya where is Loki? She responds you can't go after him; we first must rally the rest of the gods!! Lenneth tells her that she no longer has to obey commands from her, and that the whole reason that this final battle is accruing at all is because Odin stole that Orb in the first place.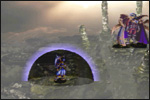 Freya tells Lenneth to open her eyes as she knows what she is planning to do, saying that a persons death is but a fleeting moment. Freya tells Lenneth that she sealed her memory thinking it was best for her!! She continues on saying that humans are born, and when they die, they are reborn. The circle of life turns for eternity, that is the course of nature!! Informing Lenneth that she must not allow such human emotions to consume her, she will lose everything! Lenneth calls her arrogant as she feels pity for all of them, and wishes to save them!! Lenneth starts to walk away, but stops and says that parting is truly a sorrow... Freya again begins to cry over Odin. Lenneth walks back to Freya, asking her why can she can not show such emotion towards humans as well? But receives no answer.
Lenneth appears at the base of Asgard Hill and starts to make her way up to the summit. But along the way, she must fight Finrir and Bloodbane. Both are very tough battles. After, you will reach the summit where Loki is waiting.
Loki is surprised that Lenneth finally showed up, but says that she is too late as Odin has fallen and none can stop him now. Lenneth curses him... Loki asks why does she hate him so? Simply because he killed that human? Well, now is her chance to fight him, perhaps then she will feel at peace. This is only a short battle; as soon as one of your party members is killed it ends. After, Loki laughs saying that even with the sword Levatian that's all Lenneth can do? Odin died protecting Freya, Lenneth what about you? He continues on saying that she can not use her true power because her "friends" are here. And if she does, the blood of heroes will be on her own hands... Lenneth doesn't respond, instead she slowly ascends into the air. A this point she creates a massive explosion that destroys Midgard and what is left of Valhalla. Loki is impressed at Lenneth's power, but says a pawn of Odin has no chance to defeat him. Lenneth begins to cry saying, I hear them... I feel all their pain... she once again ascends into the air. But this time she begins to flap her wings dropping feathers. Once these feathers contact the ground they start to recreate what ever they touch. Thus, bringing the world and it's people back to life. Loki yells out; "The power of creation?!
It can not be! You are a taker of souls your power can not be so vast!!" Lenneth responds: "YES! Now I have the power to defend all!!". Loki says; "What is the power of creation?! He has but to defeat her and the would comes to an end!" And now the the final battle begins... After the fight, Lenneth holds Loki's soul in her hands. She says that she never understood what was inside his heart, and wonders if she ever be able to understand him. All of a sudden a voice says; "I think you already do" Lenneth is shocked. She turns to see Lucian just before he embraces her... Lenneth says; "Lucian shall we go? As they are about to kiss the screen fades to black and then credits begin to roll. At the end, Lenneth's final words are: "I think together we will be able to find happiness...". The screen now fades to white and a feather appears with a "Fin" in the center, meaning finished.
After the credits roll for the A ending; you are treated to a secret ending, featuring Brahms and Lezard Valeth. Brahms starts out saying that Odin has fallen, and Valkyrie has become Lord of Creation. The Promised Land is born. The world is once again reborn and all the Fruits of Creation are ripe with life renewed. The forces of Chaos that rule all are once again set into motion. He laughs saying that he has 1/3rd of the Lord of Creation in the palm of his hand. But the mistress of Niflehiem, Hel, shall not remain silent.
And that the man of Midgard (Lezard Valeth) concerns him. He finishes saying: "Very well, let us go to the dark abyss eh, Simeria?".
Lezard appears and states that he hadn't given up the Philosopher's Stone he would have been consumed in the Dragon Orb's final flame. He paid a high price, but says that life can indeed be expensive. Although, it was quite interesting. He goes on to say that Valkyrie's transformation has taught him everything, that he now has the confidence to realize his greatest dreams and ambitions. As his is the only soul not controlled by Lenneth, although she has captured his soul in a different way. He finishes swearing that ultimate power will be his, by it own hand it will be his.
Newest Albums
Exist Archive - OST
Phantasy Star Nova - OST
Frontier Gate Boost+ - OST
Beyond the Labyrinth - OST
Frontier Gate - OST
Albums: 50
Tracks: 1,637
Available: 5.7 GB
View Track List
Display Music Player